$266,801 Fee Award to Defense Went POOF!
     The defense in Hutton v. Fidelity National Title Co., Case Nos. F063318/F063922 (5th Dist. Jan. 31, 2013) (partially published; fee discussion unpublished) must have been feeling pretty good in this one. It had won a summary judgment against a plaintiff suing it on behalf of a putative class for excessive notary fee changes under the Government Code. Then, after it prevailed, the lower court awarded postjudgment fees under a contractual provision in escrow instructions to the defense in the amount of $266,801--the full amount of defendant's request.

     The fee award went POOF! on appeal. The appellate court reversed because it found the fee award sprang from an unconscionable fees clause hidden in escrow instructions. So, there truly was surprise: the fees clause was hidden in the signing process and was buried in the escrow instructions themselves, contained in a general provision with no highlighting. Also, the clause was substantively skewed too much in a one-sided nature in favor of the escrow company. The defense tried to argue that Civil Code section 1717's mutuality principle rescued the unilateral nature of the provision, but that only applied to "on the contract" disputes--not involved here, because plaintiff was suing based on a Government Code statutory provision. Fee award reversed.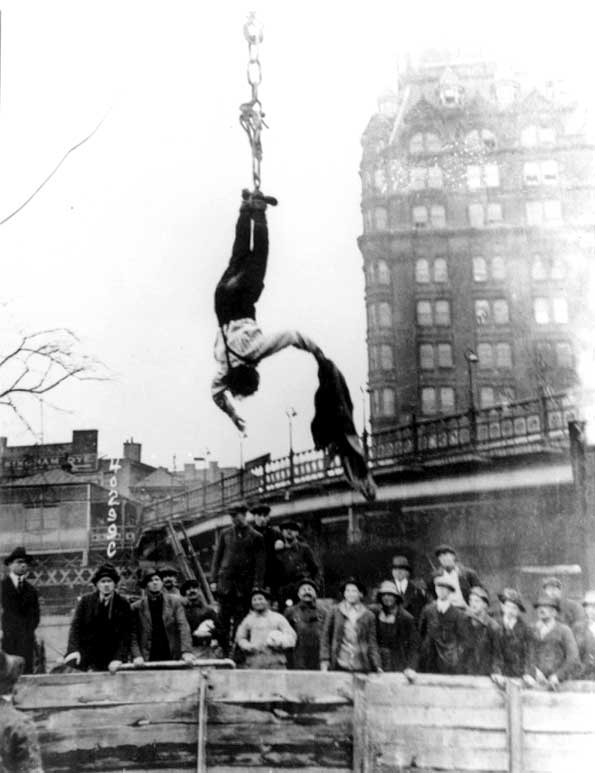 Houdini escapes from straightjacket upside down.